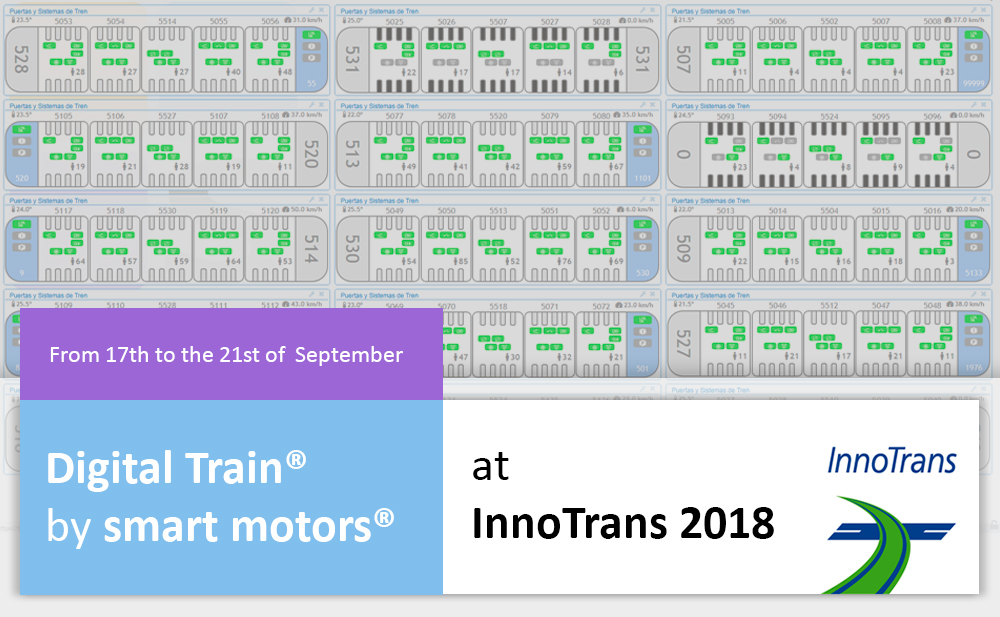 Digital Train ® brings out information from the railway network
It's a matter of boosting knowledge. Trains collect a lot of information from the railway network that before was only displayed to the driver and on demand to the rolling stock maintenance team. This includes up to 11.000 data variables coming from the subsystems, the infrastructure, signaling elements, among others, converting the train in a sensing platform.
smart motors ® has developed an onboard monitoring solution, called Digital Train ®, that brings out all this information and foster streamlined operational and maintenance processes. Digital Train ® also provides support to take better day-to-day and long term decisions for a better service and to rationalize resources. It is a cross departmental solution and offers many possibilities in: operations, service planning, energy, maintenance, customer information systems, among others.
If you think that having more information about your rolling stock will allow you to improve availability and make your processes more efficient, we can help you. Digital Train® highly contributes to squeeze knowledge and through Digitalisation to step into a new age.
From the 17th to the 21st of September, visit us at Innotrans, in Hall 24 Stand 101 and we will share with you all the technical and functional details about Digital Train ®, as well as our other solutions areas: signaling and tracks.
In order to provide you with the best possible service, we recommend you to schedule a meeting with us as soon as possible, through the channel that you prefer: our own area in the Innotrans 2018 portal or you can write me directly to marta.miralpeix@smartmotors.org and I will be delighted to assist you.
If you want to know more about us and our products do not hesitate to visit our website or contact me (marta.miralpeix@smartmotors.org).