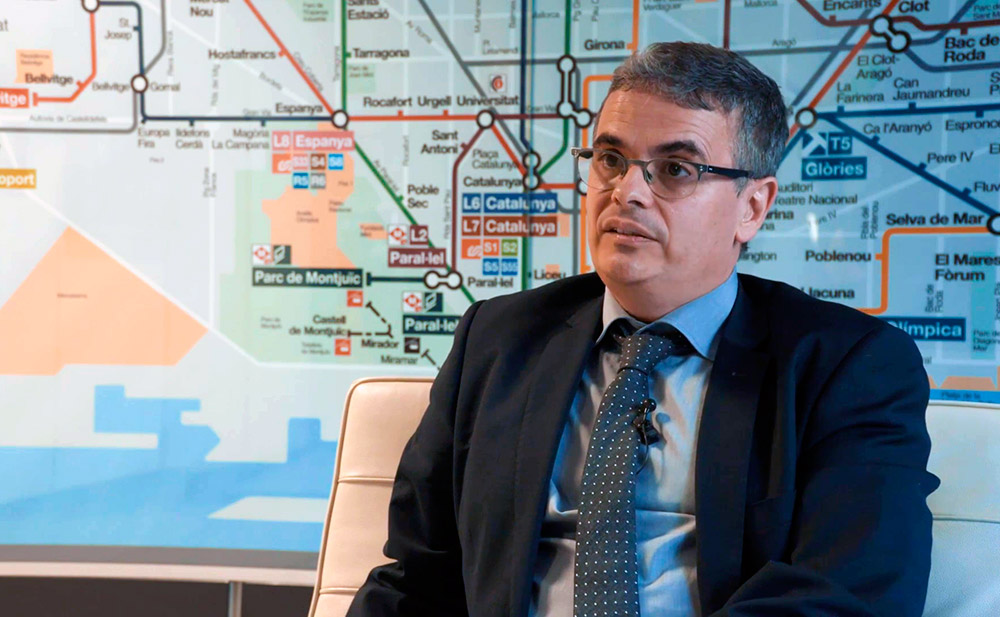 Ignasi Oliver, the Director of Transit Service, Maintenance and Projects Area at Metro de Barcelona, talks about the value of adapting to innovation in the railway sector and shares his experience of more than 30 years implementing Digital Strategies.
Tell us about your work experiences.
I have been working in TMB since 1988, always in maintenance-related projects with different assets such as signaling, communications, electrical and mechanical installations, tracks, and catenary. My work has also involved managing teams and introducing new technologies and ways of working over the last 30 years. I know how hard it is to introduce these new methods into the organizations. For example, we were the first in Spain to introduce RAMS within signaling projects. We also introduced RAMS in maintenance projects and I think we were the first in doing that in Europe too.
I see you have a lot of experience in the railway sector. What can you tell us about Metro de Barcelona?
Metro de Barcelona was inaugurated in 1924. It is an old company but with a modern spirit at the same time. As an example, 30 % of the kilometers of the network is driverless. We have 8 lines in operation with 161 stations in 124 km.
We have achieved a higher level of digitalization than common in railways industry. For us, digitalization is nowadays an existing way to solve needs efficiently.
It has to be a big challenge to modernize the elements for such an old infrastructure. How did you start with Digitalization? Which were your concerns?
In 2006 we had frequent punctual failures in Point Machines - causing much disturbance to the service. At first, we reacted increasing preventive maintenance, but the only outcome was an excessive maintenance cost. This was a problem and a motivation to find a different solution. So, we decided to monitor the Point Machine from the inside in order to see what was going on. We asked our signaling providers, but they didn't have a solution for that. That's why we built it together with the University. That's how smart motors was born, as a spin-off of this project and with the entrepreneurs who took part in it.
Which solution was developed?
We developed devices to collect the data from the inside of the Point Machine and a software to analyze these parameters. We learned together how to make it useful by defining the alarms' threshold of every measured parameter, a trend analysis of one or several combined parameters, alarms based on patterns of failures, and, finally, we developed automatic diagnostic reports.
How did you convince your manager to invest in Digital Strategies at that time? I imagine it was a brand-new concept…
Nobody was talking about Digitalization in 2009. But, as the Point Machine monitoring had very successful results, we carried on by monitoring other assets, such as Track Tircuits. The other important change came when we started with Digital Train. As before, there was another real need to cover. We had to face problems of high demand growth. The train's pressure data are proportional to the load. Rolling stock engineers knew about the pre-DAVANA platform from signaling engineers. So, we used it to monitor the trains occupancy along the lines. This information is used to adjust the offer plan to the evolution of demand and it helped to define the investment plan for trains. DAVANA was born when signaling server was moved to the cloud as Digital Train was, and when we crossed data from trains and signaling. So, we were investing in successful solutions to solve real problems and he was easier to convince.
How did you overcome the failures and problems in these last years?
Since it went well with Point Machines, we applied the same with Track Circuits. Why? The main motivation was to reduce service delays. The impact of Track Circuits failures is significant for the metro service. Even if they have good reliability, having so many Track Circuits (1.600), the failure ratio affects to the service. The next step came with Digital Train. Initially, the development was going to face a problem again. We needed to know very precisely the occupancy of trains to adjust the offer plan to the evolution of the high demand growth. As train's pressure data are proportional to the load, we used the same platform that we had for Point Machines and Track Circuits to collect and show the information, and also to use other thousands of variables that trains have to solve needs in the operation and rolling stock department. Integrating the information of trains with signaling, that's how DAVANA concept was born. So as it was proved that working in this way we solved needs, we were working hand in hand with smart motors to introduce sensors in the platform to solve needs in bridges, vibrations, tracks, etc., and, at the end we have achieved a higher level of digitalization than common in railways industry. For us, digitalization is nowadays an existing way to solve needs efficiently.
In your opinion, what does DAVANA mean for TMB?
For me, DAVANA concept means achievement. It provides quick results to real needs with a same practical point of view for very different assets and with the ability to integrate old assets that still have years of life left, and to integrate into our existing corporative tools and technological information systems. So, it fits to our needs, reality and culture.
And this is not common. Deloitte reports say that they see a 70% failure rate in Digital transformation projects. And also, that in the last 50 years failure rate in the organizational transformation projects has remained constant at 60-70%. So, DAVANA outcome is the opposite: achievement and success.
So, you mean it is better to have a unique platform integrating all your existing assets rather than having specific platform for specific assets?
When you have hundreds of different assets, for different purposes, different technologies, branches and ages is a great advantage to manage the maintenance and solving their problems in the same way. Besides, integrating the information from monitoring different assets, even when it seems that they have no relation between them, it may have some influence and you can find new ways of diagnosing or improving maintenance.
It also helps to stablish transversal ways of working among different departments, same processes, culture and more cooperation. Knowledge, effectiveness and work power is boosted.
Finally, do you have any plans to overcome the effects due to COVID-19 situation?
Social distancing is not easy in a metro system that has been designed to move thousands of people as quick as possible in an underground environment. The information of Digital Train from DAVANA helps us to know the occupancy along the lines, using it to record the evolution of ratio and to adjust the offer, to move operation and security staff to the critical areas at the critical moments, to create statistics to inform customers in advance of the expected occupancy by means of the TMB web to help plan your trip if you have some schedule flexibility, to inform in real-time in some stations of the occupancy of next trains. Soon, this information will be available in TMB app to use it in your smartphone.
And, finally, we intend to improve CBM and predictive maintenance through DAVANA to prevent failures and avoid over-occupation of trains due to delays caused by signaling failures.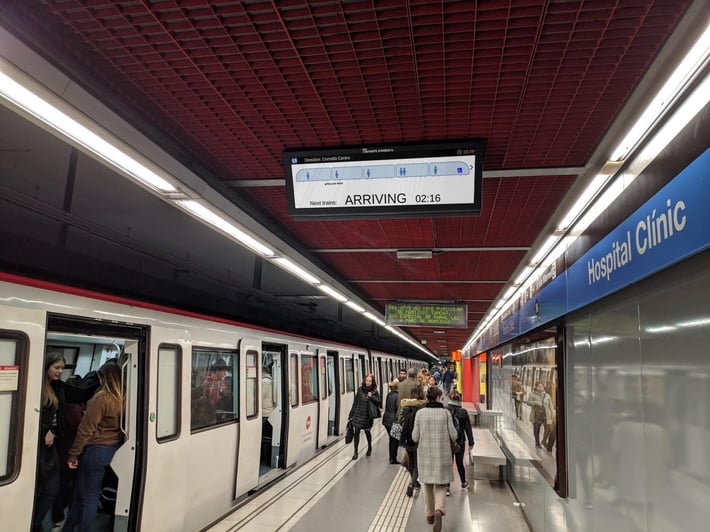 Info screens guiding passengers to be safe and comfort by easily distributing along the train.
smart motors is very grateful to all the staff in Metro de Barcelona, and specially to Ignasi for leading all the initiatives.
Today, DAVANA offers a wide range of solutions. We are highly committed to support operators in fulfilling unattended needs and facing the many challenges along the road of success.